St. Louis Jobs
Sales Associate, Cashier, Line Associate Job Openings
Join the St. Louis Team
There is a reason our staff is always smiling. We count on our team members to give customers the best car wash experience anywhere, so we hire only the best and the brightest: People who connect with customers. People who elevate their team members. People who have uncompromising standards. If you can bring your best every day, Waterway could be the place for you. You'll work hard, have fun doing it, and smile with the satisfaction of a job well-done.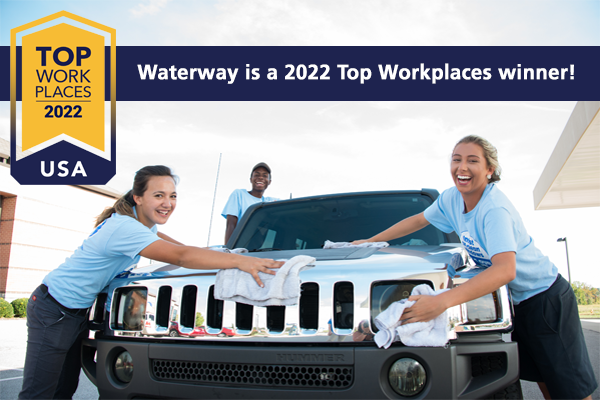 Why Work at Waterway
Recognized as a Top Workplace in 2022 (as voted on by our employees!)
Work with a wide variety of vehicles - including the newest makes & models!
Referral Bonus Programs
Flexible scheduling available
Winter is our busy season (year-round position)
All employees get FREE CAR WASHES and GAS DISCOUNTS
Advancement, Promotion, & Cross-Training opportunities
Tuition Assistance Program (most colleges, trade schools, and beauty schools qualify)
Tuition Assistance Program:
Earn up to $4,000 per year!
Eligible for students at any nationally accredited school, any major or degree program
Required to submit passing grades (C or above)
Interested in working as an Auto Detailer?
Average $15 per hour (base pay + cash tips daily!)
Work outside, mostly in the car wash finishing area
Clean it like it's yours! High-quality detailing of customers' vehicles, both inside and out
Perform visual inspections of the condition of each vehicle before, during, and after cleaning
Interested in working as a Cashier?
Average $14 - $16 per hour (base pay + sales bonuses!)
Work inside Convenience Store / Customer Area
Suggestive selling of Waterway memberships and coupon books
Operate registers, scanners, and credit card/debit card terminals
Keep the checkout area and convenience store clean and orderly
A full list of job duties is found in the position description provided to all applicants
Job Requirements:
Valid Driver's License
Professional Appearance Standards
Must be Dependable, Friendly, Responsible, and a Great Team Player
Excellent communication and customer service skills
Apply Today! The Waterway Carwash experience is totally unique. First rate facilities. State-of-the-art operations. Extreme focus on customer service. And, phenomenal Waterway people. Waterway is a fun place to get a great car wash experience and it's seriously a great place to work, too!
Waterway® Carwash is a great place to work for students and others with flexible schedules. Waterway is an inclusive equal opportunity employer that considers applicants without regard to gender, gender identity, sexual orientation, race, ethnicity, disabled or veteran status, or any other characteristics protected by law.