Fundraising
Our coupons help you raise the funds you need.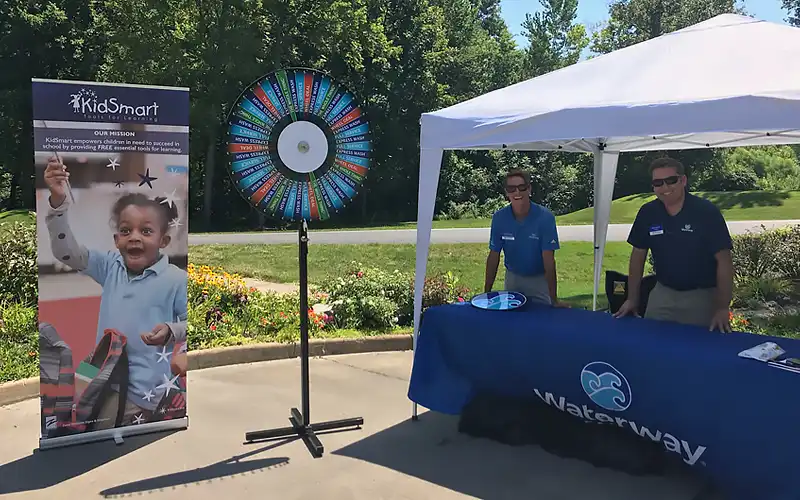 Supporting non-profits is part of who we are
Looking for a fundraising partner that will actually get your organization the money they need to do the things they want? Waterway® Fundraising is your best bet! Selling Waterway car-wash coupons in your community is super easy because car washes are a highly valued and necessary service to your supporters. Who doesn't need a car wash from time to time? They're going to love you for it!
Why does Waterway Fundraising beat all others?
Waterway fundraising coupons NEVER expire

All coupons sold are redeemable for a Full Service car wash at EVERY Waterway location

No mark-up! Coupon pricing is identical to what your supporters would pay at Waterway

No additional SUV or large-vehicle charges for your supporters when they use these coupons

Coupons are supplied up front at NO CHARGE to your organization

Your group/organization will not be charged for any unsold coupons (simply return them)

Coupons can be used immediately when sold
What are the Rules?
Waterway Fundraising is limited to non-profit 501c3 organizations, school groups, church groups and youth sports

Your organization will sell our car-wash coupons at regular price and keep half of every sale!

A Waterway Fundraiser typically lasts 30 days (one calendar month)

Waterway Fundraisers are exclusive, annual events; the bigger the better!

The goal is to sell 200 or more coupons (some groups have sold over 1,000!)

Representative must be authorized to sign a simple agreement that outlines each party's responsibilities

The organization is fully responsible for the coupons while in its possession

Coupons are not to be sold on the premises of any Waterway Carwash

Once the sales period is complete, bring back all unsold coupons and a check for 50% of the profits!